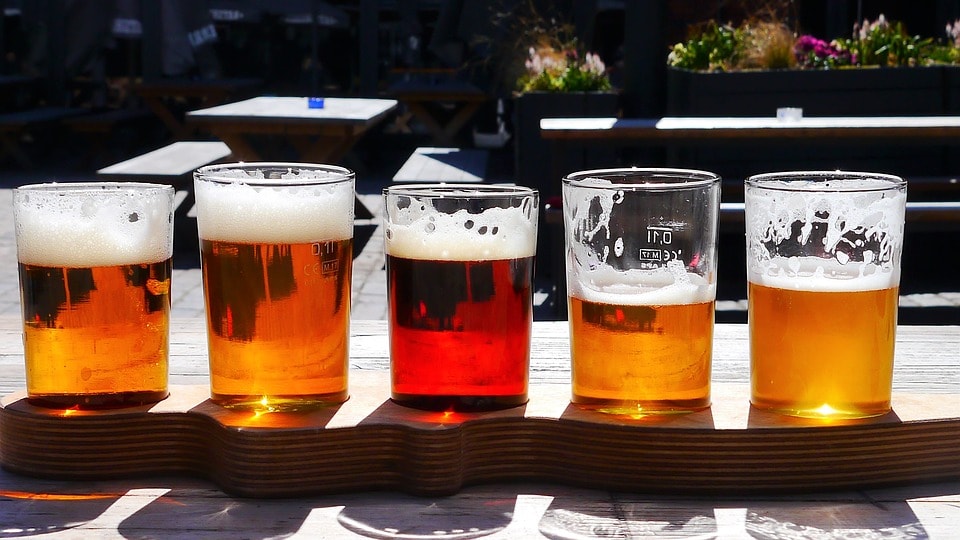 In 2017 people moved away from the bar scene and into the cool and occasionally hipster brewery scene.  Drawn to the allure of craft beer, patrons flocked to breweries to relax and play shuffleboard.  Deciding on a point of sale system for you brewery can be different process than a traditional bar or restaurant. Choosing the best point of sale system for your brewery depends on what you are looking for, reporting, handheld tablets, or customer loyalty. The right point of sale system will help your team work efficiently, boosting profits, and increasing the overall customer experience.
Brewery Point of Sale Checklist
Inventory
Whether you brew your own craft beer or stock bottles and cans of your local favorites, keeping track of inventory is an important function of your point of sale.  Inventory management allows you to monitor product stocks to make sure you never run out of customer favorites.  See which beers aren't selling well and discontinue them to make room for the best-sellers.  Easy inventory management is important if your beer list is frequently updating.  Be able to add new items and change prices quickly while tracking their success.
Reliability
Can the point of sale system handle your industry?  Be realistic about the conditions the system will be under.  During rushes beer may spill, and the system make take an elbow or two. An iPad system may seem chic and trendy, but one unlucky spill, hit, or drop could end up costing you 600-800 dollars. Your system should be the last thing you worry about.  Don't be that business that has to tell customers "cash only" and turn away patrons because your POS system or wifi is down.  Sometimes you only get one chance with a customer before they head over to your competition.
Reporting
Your POS system should be more than an electronic cash register.  Each customer transaction offers valuable reporting information that is vital to your business.  Analyze staff performance and schedule smartly. Use this data to take control and make your brewery as efficient as possible.  Go beyond spreadsheets and use graphical reporting to give visual representations of your brewery's performance.  Whether you opened your brewery out of business savvy or love of craft beer, understand your business's cash flow.  Give yourself option to create and receive reports remotely.  Schedule regular reports and have them sent to your inbox, or if you have a sudden question, create a report from your laptop at home.
Handhelds
Do you offer table service?  Handheld tablets can make a huge difference in your business.  Servers are quicker and more productive with handhelds.  They can input orders at the tables while the customer is speaking, minimizing errors. Bartenders and servers do not need to write down orders or try to keep them in their short term memory as they wait in line at the POS station.  Small touchscreen tablets allow bartenders and servers to keep up with the customers and place orders in real time.  Faster order input means faster order delivery, which means more profits for your brewery.
Retail
Are you serving just beer and snacks, or merchandise too?  Merchandise like shirts, koozies, and decals help spread brewery brand awareness.  What about beer to-go? Does your point of sale support a scanner? Don't limit your offerings!
Promotions
Looking to bring in customers for happy hour?  Need to sell the rest of a beer? Run promotions like BOGO or timed discounts like happy hour to attract customers and control your sales. Your   brewery POS system should make promotions a breeze.  Set happy hour pricing to immediately go into effect at 4pm on Friday.  Set and forget.  Create different promotions that you can set with a push of a button.  Your point of sale system should make your life easier, not harder!
Bonus Features
Digital Signage
Paper menus are becoming passé, especially for the brewery industry. You may have wet tables, changing prices, or beers on rotation, which makes paper menus a major hassle.  Digital signage can easily turn any TV into a menu board.  Save costs on printers and paper, and use technology to your advantage.  Updates your menu in seconds if you sell out of an item or want to run a special.  You can also integrate other features like social media feeds, photos, and advertisements to market your brand.
Loyalty
It's 2018, paper punch cards are a thing of the past.  Your customers want to be rewarded for their patronage in unique ways.  Check your wallet, how many paper punchcards or loyalty cards have you kept over the years? Customer rewards have turned digital.  Loyalty programs are becoming web or app based.  Give your customers tailor rewards.  Why give the same reward to a customer that comes once a month and orders one beer and the customer that comes every Friday and Saturday and buys multiple beers? Modern customer loyalty isn't just for customers.  Digital loyalty programs allow you to use your customer data for marketing and to help understand your demographics.  Communicate with your customers using text message or push notifications.  Send them promotions, coupons, or information on events and specials right to their phones.
Choosing a brewery point of sale is an important decision that has a dramatic effect on your business's efficiency and profits.  Make the most out of each customer transaction, using the data to understand your business from every aspect. Make sure your brewery point of sale supports all of your business's need and allows you to grow.